FEMININE STEAM
Regular price
Sale price
$29.99 USD
Unit price
per
Sale
Sold out
Physical Benefits
May help decreases heavy menstrual flow

May help regulate irregular or absent menstrual cycles

More rapid healing and a toning of the reproductive system after giving birth

May help eases discomfort of uterine fibroids, ovarian cysts, uterine weakness, uterine prolapse & endometriosis

Promotes healing of vaginal tear, episiotomy, or C-section scar

 May Help to restore bacterial and ph balance to aid in prevention of infections, bacterial vaginosis and odors

May  Relieve for symptoms of menopause including dryness or pain

may help tighten the vaginal canal

Detoxification of the womb and body
Helps eliminate yeast infection
FERTILITY ENHANCEMENT
Increases cervical fluids
helps relax the vaginal canal and cervix
Nourishes the and tonifies the uterine lining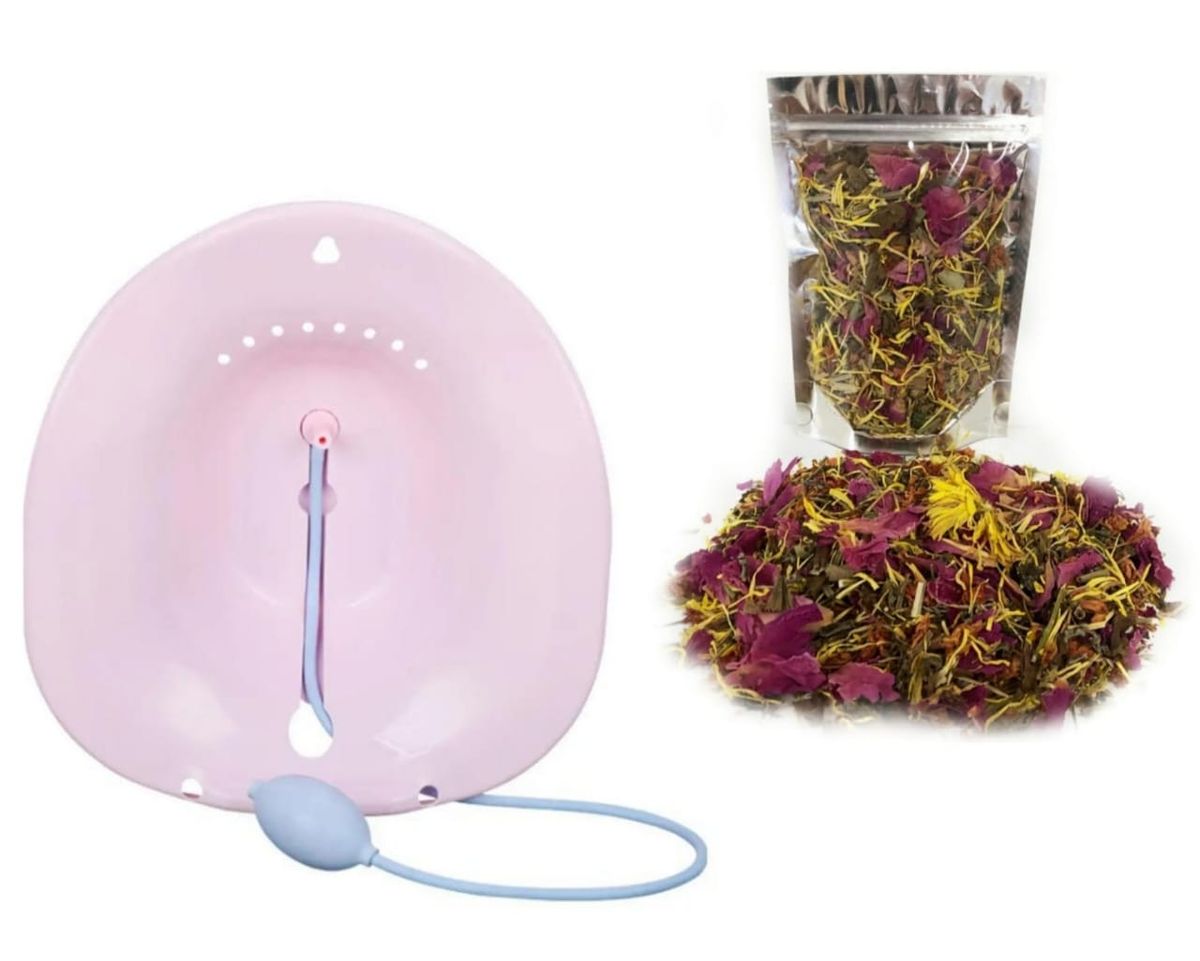 A Yoni  steam (often referred to as a V-Steam) is an effective and relaxing way to promote reproductive health. The V-Steams are ph balanced to help the body naturally cleanse the vaginal and Assist with Menstrual cramps, vaginal tightness, hemorrhoids, heavy menstruation, balances hormones, strengthen uterus, assist with menopausal symptoms, recovery after childbirth, feminine odor, regulate menstruation, fluid retention, fertility, remove waste which contributes to cyst, fibroids,  and tumors, destroys fungi, bacteria, viruses, and parasites, repairs damaged tissues, and assist with infection, bacteria and discharge.
DIRECTIONS FOR YOUR V-STEAM
Boil two quarts of water 
Place one handful of fresh herbs or 1/4 cup  into your steaming bowl
Place the steaming bowl directly on the toilet. and pour water  
Undress from waist down or put on your steam gown for a comfortable feel to  keep steam inside .
Sit on your yoni seat or squat above the  seat 
Let the steam flow into your vagina for 15-30 minutes.
When done discard herbs and nurture yourself in a comfortable warm place and relax.
 Repeat steaming twice per month before and after your cycle.
Please note: this can temporarily increase menstrual flow with more dark fluids or debris. Menses may start earlier than usual due to the cleansing effect.
Share
First time ever trying to yoni steam and baby it feels so good down there
I love this ! My friend and I ordered one kit and it was enough to do both of us in one bag amazing steam definitely worth the money for sure.
Great! Arrived early and so aromatic and relaxing. Pouches are really full so great value for money. I'm also pleased with the results.. regular steaming has helped to balance out my mebstrual cycle. Shorter days, lighter flow, less symptoms
Amazing feeling refreshed
OMG! AM SO GLAD I FOUND YOU.THANK YOU FOR SHIPPING MY ORDER OUT SO QUICKLY
MY FAVORITE
Ladies this is my favorite feminine steaming herbs.